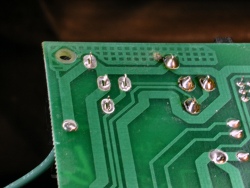 In order to replace the input jack of a Fender Hot Rod DeVille, you must first lift up the amplifier's main printed circuit board.
Shown here are the terminals of a replacement jack installed into the board's cleaned, printed-circuit pads.
This is an easy fix but lifting up the printed-circuit board can be a bit scary due to tight clearances.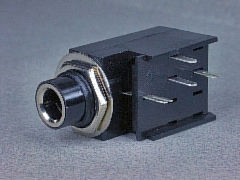 Click to Enlarge
This is the 4-Pin, PC-mount jack used in this repair.
Fender used this style jack in many amplifier models from 1988 - 1999.
Other instrument makers also use this jack.



FREE SHIPPING in U.S.A.
WE SHIP WORLDWIDE - see Shipping for details
---


Buy the Hot Rod DeVille Input Jacks


This jack is used in the following Fender amps:

Hot Rod Deluxe, Hot Rod DeVille,
Blues Deluxe, Blues DeVille,
Pro Junior, Sidekick, BXR100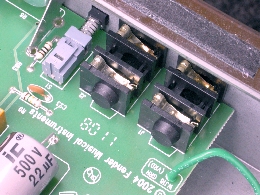 NOTE:

In 1999, Fender switched to different input jacks for their Hot Rod and Blues series amps.
This photo of a 2004 Reissue Blues Deluxe shows the later, 1999 jack. It has 4 lugs but it isn't compatible with the namesake "4-pin" jack used in this Repair Story.
If you're unsure which jack you need, simply unplug the amp from the wall, remove the back panel and look to see which jack is in there.