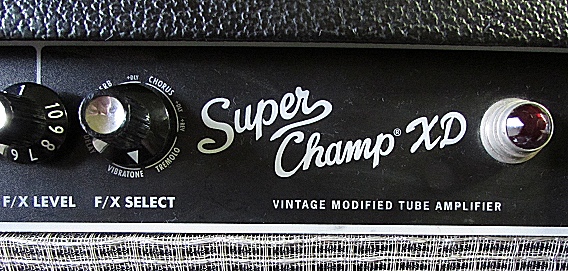 Fender® Super Champ® guitar amps, launched in 2007, marry a digital preamp to a classically warm, Fender Princeton, vacuum-tube power amp.
The digital preamp, shown below, is made up of:
A Texas Instruments, digital signal processor (DSP)
A software operating system
Random-access memory
A connector for input, output, and power




---

The preamp has two channels. Channel 1, the clean channel, has only a Volume control while Channel 2 has both a Gain control and a Master Volume. The Treble, Bass, and F/X apply to both channels.

Channel 2 also includes a 16-position Voice control that models the sound character of various legendary guitar amps.




---

Inside the chassis of the Super Champ you'll find:

A digital preamp
A vintage, Fender® Princeton, dual-6V6, vacuum-tube power amp
A power supply
The user controls and their data lines.




---
The only thing this amp needed was an AC inlet jack to replace one that was broken.

This unit is a Super Champ XD but the X2 uses the same AC jack.

The X2 has a USB interface for tinkering with DSP settings and recording to a DAW.