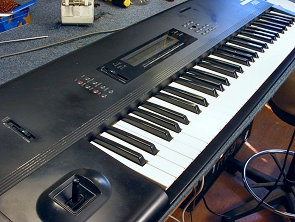 Korg manufactured the M1 between 1988 and 1994.
Using PCM samples, analog-style sound shaping, and onboard sequencing, it became the best-selling digital synthesizer of all time.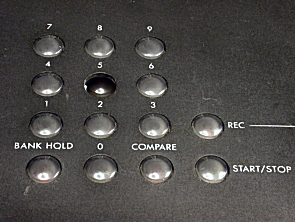 When data-entry switches wear out in the Korg M1, you have to press their buttons harder and harder.
In this photo, the #5 button gave way and broke off of its button group.
This Repair Story shows you how to replace worn-out switches and broken buttons in the Korg M1.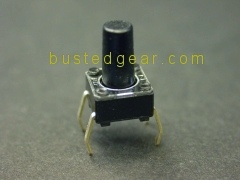 CLICK TO ENLARGE
FREE SHIPPING in U.S.A.
WE SHIP WORLDWIDE - see Shipping for details
• Buy Tactile Switches for the M1.
These switches also fit the Korg X3, X2, X5, T1, T2, T3, 01/W, 01/W-FD, N264, N364, i2, i3, Trinity, Trinity plus, Trinity pro, Wavestation W1, Wavestation A/D, and microKORG keyboards.