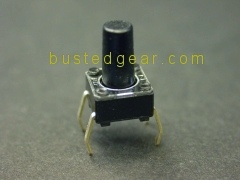 CLICK TO ENLARGE
Worn out switches make the buttons of your Korg X3 difficult to use. The buttons that you use most will eventually stop responding completely.
Only basic soldering skills are required to install new switches but you must be handy with a screwdriver.
While you're in there, it makes sense to change any dodgy switch.


Buy Tactile Switches for the Korg X3 here.
These switches also fit the Korg X2, X5, T1, T2, T3, M1, 01/W, 01/W-FD, N264, N364, i2, i3, Trinity, Trinity plus, Trinity pro, Wavestation W1, Wavestation A/D, and microKORG keyboards.
FREE SHIPPING in U.S.A.
WE SHIP WORLDWIDE - see Shipping for details

IF A RUBBER KEY-CONTACT STRIP NEEDS REPLACING:

Check this parts notice.

IF A KNOB BLOCK IS BROKEN: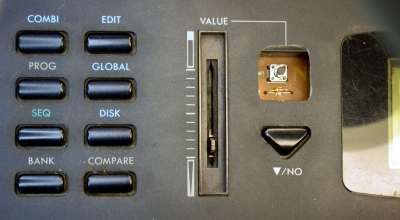 The knob blocks are no longer available but, if you're desperate, all isn't lost.
1. Disassemble the X3 and move the PC boards away from the front panel (see "Full Story", above).
2. Get a Dremel® rotary tool with a tungsten-carbide cutter accessory.
3. Enlarge the hole so your finger can reach through and operate the tactile switch.
4. Burnish the hole's edges and clean up all the metal shavings.